13 October 2016
Cheap Monday has created an entire collection intended to make clear the importance of re-using old and unwanted clothing, and being sustainable. Climate change is likely to change every part of our lives. And that isn't just the expected things – the changes happening in our environment are going to lead us to change everything, down to the very clothes we wear. The extreme weather likely to result from the warming of the environment is likely to bring its own clothing challenges and concerns. But others are changing their clothes to try and limit the effects of that warming, too.....
That sustainable movement in clothing has most recently been highlighted by Cheap Monday, which has launched a collection called "C/O Cheap Monday". In doing so it is aiming to highlight the challenge of sustainable clothing – and the sheer amount of clothes that are thrown away.
The company is doing so by taking old and unneeded clothes and re-fashioning them into new clothes that can be sold over again. The collection is similar to Cheap Monday's usual look – mostly modern denim – but all of it comes through re-used textiles, made up of jeans as well as bomber jackets and tees.
Sustainable clothing might once have conjured to mind hemp shirts and sandals. But a range of other companies are working to try and make it the bare minimum for selling clothes, not a particular fashion choice or style.
The company also will allow people to deposit their old and unwanted clothes in its shops, giving people money off for doing so and then using those textiles to make new collections.
Cheap Monday said that it had made the move because of an awareness about the damage being done to the Earth – and the sheer amount of clothes that find their way into landfills.
"We are ever conscious about the Earth's dwindling resources and have been working for some time to become increasingly sustainable, actively looking at ways to close the loop and become a fully fledged member of the circular economy," said Nadia Kokni, global marketing director at Cheap Monday. "We are taking our first steps but have high hopes to be fully sustainable in our denim and apparel collection by FW2018.
"We have started by working with organic and sustainable cotton as well as exploring how to work with pre-existing textiles and upcycle or re-use materials. Our C/O Cheap Monday capsule is something we conceived to highlight the fact that upcycling and re-using materials is one of the most sustainable ways to 'create' and be part of the circular economy."
"There are a number of reasons combined that has enabled the issue of sustainability to take its rightful place at the top of the agenda for many people not least technology, the political environment and the ease at which people can access and share information," said Ms Kokni.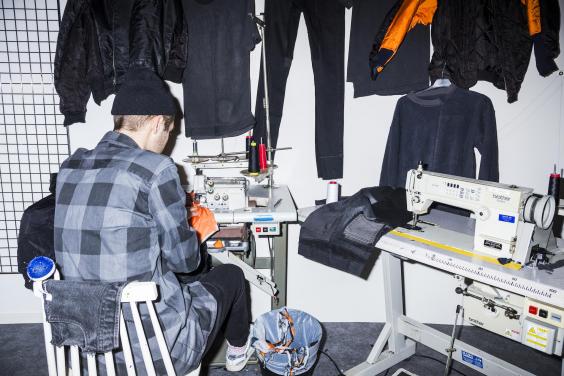 In some ways, it just wouldn't have been possible to make such a collection before now.
"Technology also has its place in driving the changes in the fashion industry; there are a number of innovations in progress that will enable us to consider how best to use what was previously considered 'waste' in increasingly relevant ways and into great quality fabrics & textiles – something that was not possible 20 or so years ago," she said.
And much of it is a recognition that customers require not just sustainability but openness from the companies they're buying from. Committing to sustainable clothing isn't just a good deed; it's good business.
"There is also a demand for transparency, people want to know more about what they are buying and they will voice an opinion if they have concerns or are not convinced," Ms Kokni said. "Millenial audiences are at the forefront of this movement, driving a shift in consciousness and enagagement about issues such as sustainability and social and corporate responsibility."
Soon, sustainable clothes won't be one part of Cheap Monday's collection. The whole thing will be, and that same move is likely to be taken by other brands that look to make their ranges more green.
"We are working towards aggressive goals that will see our brand being fully sustainable in all materials used in denim & apparel collection by FW2018, for instance within our current collection, 69 % of what we have sold so far is sustainable for denim and apparel collection. We are also working with textile innovation to explore ways of closing the loop by working with fabrics made from pre and post consumer waste alongside exploring how we can reduce our use of new cotton overall."
INDEPENDENT